Giải pháp Huawei

Fully Connected Healthcare
Harness innovative ICT to revolutionize healthcare.
| | | |
| --- | --- | --- |
| News and Events | | |
| Helmholtz Centre Finds Cure for Data Growth | The Power of AI and Genetic Sequencing | Philips and Huawei: Just What the Doctor Ordered |
Transforming Digital Hospitals and Enabling Mobile Medical Services

ICT is reinventing healthcare, from fully connected eHospitals that can deliver services to more and more people, to integrated regional networks that help reduce costs, cut errors, and improve service quality.

Huawei's fully connected healthcare solutions provide medical professionals and organizations with the collaborative infrastructure they need to securely share, process, and use healthcare data, to more effectively care for their patients.

Elsewhere, our advanced, people-oriented medical services solutions use a variety of telemedicine applications to enable remote HD video, teleconsultation, remote surgical demonstrations, medical video-on-demand, and remote doctors' visits.

Smart Manufacturing
Digital convergence of minds and machines.
News and Events
Huawei Debuts OceanConnect IoV Platform to Digitize Every Vehicle
Huawei-Groupe PSA's First Connected Vehicle Debuts at HANNOVER MESSE 2018
HPC Accelerates Dream Car Design
The Road to Automotive Design's Digital Transformation
Pump Up Your ICT Infrastructure with Huawei Solutions

Manufacturing is becoming a fully connected intelligent industry. Huawei provides a variety of emerging technologies to help manufacturers modernize at any stage of the manufacturing lifecycle. These smart solutions connect manpower, application systems, and intelligent machinery to gear up for the future of networked manufacturing. Huawei has a range of intelligent solutions such as the mobile Internet of Things (IoT), cloud computing, and big data to help companies develop more-agile manufacturing. Discover how Huawei can transform your company into a smarter, more-efficient operation with mobile office, R&D, production, sales, service, and supply chain services.

 IoT, Driving Verticals to Digitization

Building a strong ecosystem across verticals for win-win
Smart Building
---
The demand for smart building keeps growing, as smart buildings are fundamental to the ecosystem of a smart life. Industry customers are facing the following challenges in constructing smart buildings.
• Enclosed smart building systems are not interconnected to enable smart decision-making.
• Smart building system independence makes maintenance expensive.
• Lack of data sharing prevents big data analysis.
To overcome these challenges, different systems and devices must be connected. Data security must be ensured if we wish to open up these closed systems, and improve the integrity and reliability of cross-platform and inter-regional data.
---
EC-IoT Smart Building Solution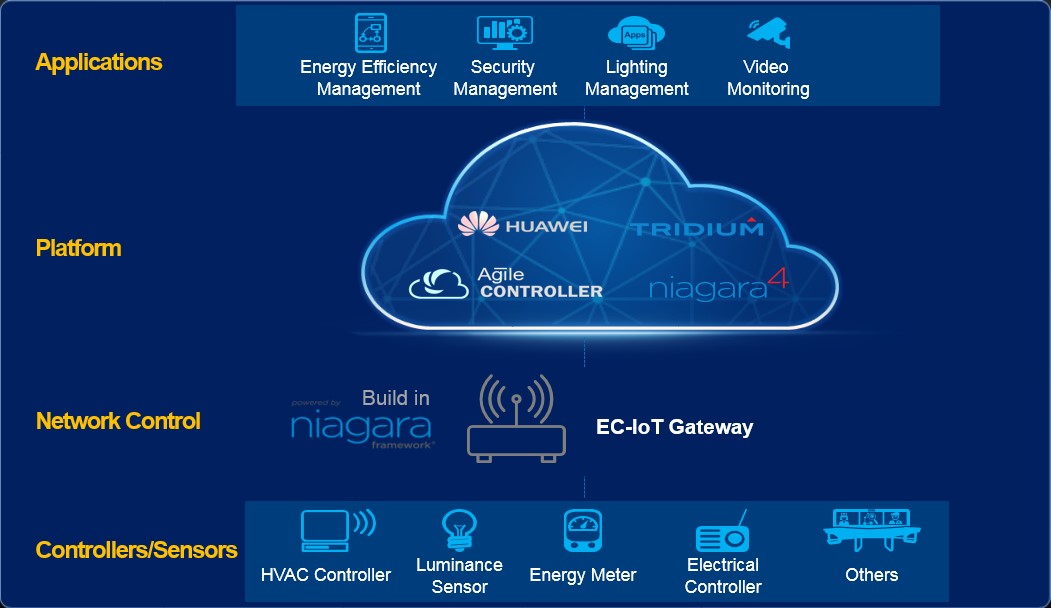 ---
Solution Highlights
The Smart Building Solution consists of the IoT gateway and Agile Controller provided by Huawei, Niagara Framework® (IoT middleware platform of Tridium, an independent business entity of Honeywell), sensors and controllers provided by partners, and various building management systems. The solution enables unified interconnection and interworking among diverse controlling devices in smart building, cloud-based management of tens of millions of IoT terminals, and distributed deployment and elastic expansion of smart building management. This simplifies interoperability, improves efficiency, and minimizes the cost of integrating a smart building.
The EC-IoT gateway of this solution provides a variety of IoT interfaces, which can be used in a diverse range of smart building access scenarios, or for unified access and management solutions to sub-systems, such as lighting, security, power distribution and metering, heating, ventilation and air conditioning (HVAC), and electrical controlling. It removes barriers, interconnecting formerly independent systems. It achieves unified interconnection and makes operations more efficient. This solution saves power, and lowers labor costs within the life cycle of a smart building. The IoT gateway supports open technologies, enabling convenient installment of Niagara software and the adaptation of over 1,000 industry protocols. It allows for diverse smart control and distributed, expandable deployment. The edge computing capacity of the IoT gateway offers valuable services such as data aggregation processing, security and privacy protection, real-time service response, and smart edge analysis. The Agile Controller delivers unified cloud-based management of tens of millions of IoT terminals and allows for resource coordination among terminals, connections, computing, and applications.
The Smart Building Solution collects and analyzes a wide range of data from both inside and outside of the buildings. It features comprehensive processing capabilities such as sensing, inference, judgment, and decision-making. The solution is dedicated to making smart buildings smarter than ever before, and to creating a greener, safer, and more efficient environment. Smart buildings can be safer and more secure (door access control, intrusion monitoring, and hazard detection), greener and more efficient (HVAC, natural resource utilization, and electrical management), and more convenient (lighting, transportation, and communications control).